About Go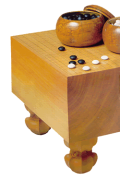 Go (also called Baduk, Weiqi, or Igo) is a strategic board game for two players and is currently one of the most played games in the world. It is the oldest known board game still played in its original form and is thought to be over 4,000 years old.
The game is immensely popular in Asia, where hundreds of players make a living off the game through government and corporately sponsored competitions. There are television channels and newspaper columns dedicated to the game.
Worldwide, the popularity of Go continues to increase daily. Most countries have at least one active Go community and it is suggested that at least 1 in every 222 people in the world can play Go. You will find that the game is known not only for being very easy to learn, but also very fun and challenging.
You can learn the rules of the game in less than 10 minutes!
About this Site
This website is intended to provide a high-quality service to all Go enthusiasts, to introduce the game to beginners in the most effective way possible, and to promote the knowledge, culture and beauty of Go worldwide.
You can explore the entire website using the navigation menu in the website header and the sidebar submenu on the left. Learn to play Go, read interesting articles by many authors, download tools like our community toolbar or game recording sheets, and more.
It is hoped that all kinds of Go players will find something useful or interesting on this website. You are always welcome, and encouraged to, share your own content here.